Doce Revista Award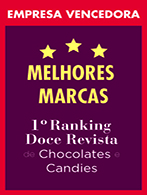 Santa Rita was one of the winners in 1st Best Brands ranking by Doce Revista, a market speacialized magazine, in the category Chewable candy. The survey was conducted through magazine's website, wholesalers / distributor, in September and October all over the country.
"It was a great satisfaction to receive this award. Despite all the challenges facing the industry today, having the recognized work gives us even more strength to move forward knowing that we are on the right track", says Bruno Almeida Carvalho.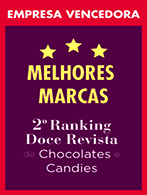 "For the second consecutive time, Santa Rita is the winner of the Best Brands Magazine Magazine, category Chewable Bullet. The research is conducted through the magazine's website and with wholesalers and distributors throughout the country. "
Balas Santa Rita is awarded in a course
The company obtained the third place for best work in the second edition of the International Business Training Program offered by social entities, Apex-Brasil and ESPM.
Balas Santa Rita was awarded in the second edition of the International Business Training Program, offered in partnership with other social entities, including ABICAB, Apex-Brasil and Escola Superior de Propaganda e Marketing (ESPM / SP). The course was held in São Paulo (SP), from February to May, and focused on the themes: strategies for competitiveness in export, trade promotion, market intelligence, international marketing, international negotiations and logistics, customs and prices. At the end of the program, each company had to present a paper and Santa Rita got the third place of the best material presented.
"We presented a project to export considering our current scenario and what we should change. The conclusion was to check the opportunities from the gate inwards and enter the export in strategic planning of the company, through the course information, Euromonitor and class entities, understanding clearly which countries are most interesting for our business", says Paulymar Rezende, general manager of Balas Santa Rita. "Besides it is gratifying to have this recognition, we believe that soon we will have sales results from the learning we obtained in the course."
In addition to the six thematic meetings, a meeting for the presentation of strategic plans and a closing day, the participating companies counted during the course and for three months on the consulting firm Global Junior, Junior Company of International ESPM/SP relations, coordinated by Prof. Dr. Diego Coelho. "The program encourages the entrepreneurs to reflect, critically and actively, on the international trade integration of their enterprises through export activity. To do this, it promotes workshops and laboratory activities with purposes of making the entrepreneur active subject of whole training process, a process that allows develop a global mindset and understand the export as an activity in time, sustainable, and not a single event, isolated " summarizes Coelho.
The third edition of the International Business Training Program will take place in August. For more information about the course and registration, click here.
- See more at: http://www.sweetbrasil.org.br/br/news/balas_santa_rita_e_premiada_em_curso#sthash.iqGCaFmj.dpuf